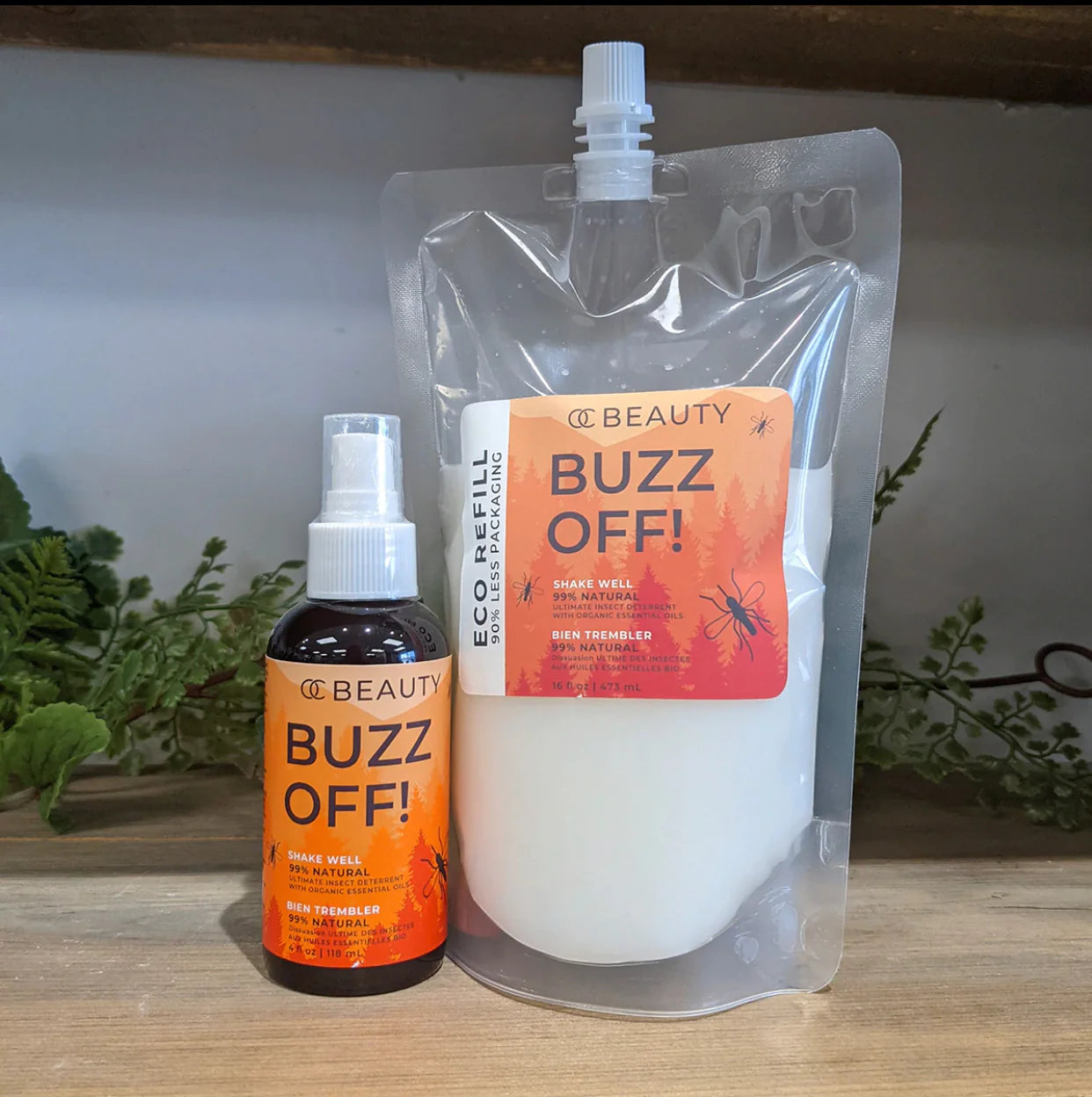 OC Beauty | Buzz Off Insect Relief 16oz Refill Bag
Our Buzz OFF Insect relief was designed to keep all those pesky bugs away while being DEET Free. Mother Nature approved this amazing bug relief and is safe for pets just spray away from the snout (onto their collar), children, and the rest of the house. It is effective against ticks, mosquitoes, black flies, and horseflies and is now made with a specific blend and concentrations of Fresh Organic Essential oils harvested at the time of maturation. Known to naturally provide long-lasting relief from all biting insects.
Lemon Eucalyptus

 

is a safe alternative that still boasts efficacy without negative side effects for your health.
Safe For Pets Spray behind their neck (where they cant lick) directly on the collar (This product has been assessed by over 10 Veterinarians and safe when not sprayed where they can lick)
INGREDIENTS: Water, polysorbate-20, Cymbopogon Nardus (Citronella) Oil, Eucalyptus Citriodora (Lemon Eucalyptus) Oil, Eucalyptus Globulus (Eucalyptus) Leaf Oil, Mentha Spicata (Spearmint) leaf oil, Azadirachta indica (Neem) Oil, Juniperus Vieginiana (Cedarwood) Oil, Melaleuca Alternifolia (Tea Tree) Leaf Oil, Cymbopogon Citratus (Lemongrass) Oil, Syzygium Aromaticum (Clove Bud) Oil, Melaleuca Leucadendra (Cajaput) Oil, Nepeta Cataria (Catnip) Oil, Rosmarinus Officinalis (Rosemary) Oil, Lavandula Angustifolia (Lavender) Oil.
OC Beauty | Buzz Off Insect Relief 16oz Refill Bag