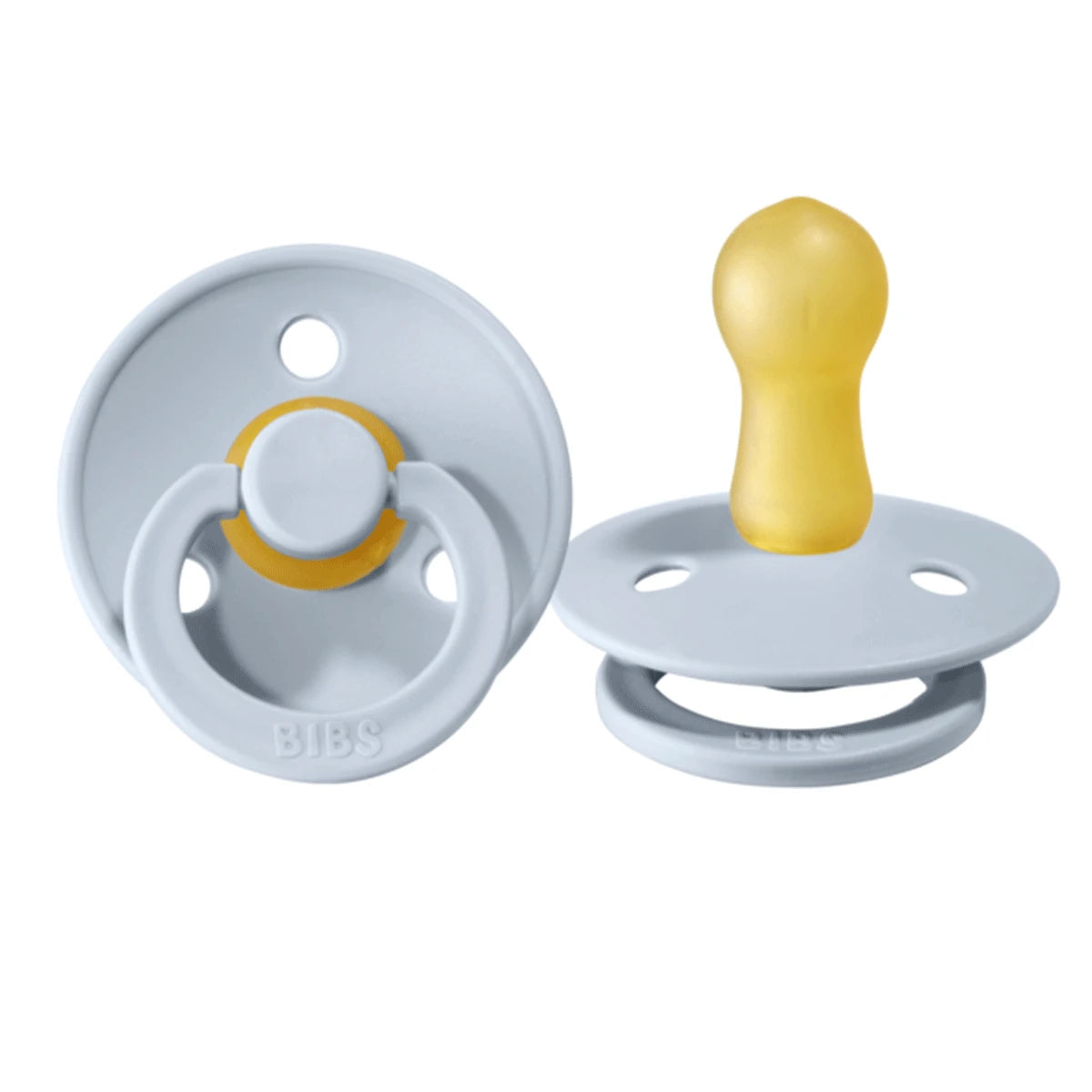 BIBS | Pacifiers - Baby Blue
BIBS Colour pacifiers are thee original BIBS pacifier and has been on the market for over 40 years. It has the signature round BIBS shield with three vent holes and round BIBS engraved handle ring. 
The round nipple promotes a similar tongue placement and sucking technique when breastfeeding, since the round shape allows the sides of the tongue to elevate and cup around the nipple, just like it does during breastfeeding. The nipple is equipped with a valve, letting out air when the baby closes down on the nipple. This ventilation system causes the air from inside the nipple to be pushed out through the valve thereby flattening the nipple to shape naturally after the baby's oral cavity. The valve is also the reason why water can be presented inside the nipple after cleaning and sterilization. If this is the case, simply just squeeze the nipple flat to press out the excess water.
The round lightweight shield faces away from the sensitive and delicate skin around the baby's mouth to ensure minimum contact with the baby's nose and mouth, which means less chance of moisture build-up from saliva that can cause rashes and sore spots. The shield comes in one size no matter the nipple size.
Features:
Available in natural rubber latex.
Recommended by midwives to support natural breastfeeding.
Also available in a

 

night

 

version with glow in the dark handle.
The shield is made of 100% food-safe material.
Completely free from BPA, PVC, and phthalates.
Designed and manufactured in Denmark/EU.
Specifications:
Babies are different and have different needs and preferences. Try out different shapes and sizes to find the perfect fit for your baby. 

Size 1: 0+ months
Size 2: 6+ months
Size 3: 18+ months

The nipple is produced from natural rubber latex. Since natural rubber latex is a natural material, color variation may occur.
BIBS | Pacifiers - Baby Blue